***
I have updated my refutation of an earlier critique of my disproof of Bell's theorem in this preprint:
https://arxiv.org/abs/1110.5876
. The updated text is in the notations of
this preprint
.
I have added a new section in the above preprint, section XIV, summarising my refutations of five critiques of my disproof of Bell's theorem, two by Gill, three by Moldoveanu, and one by Weatherall; see the new section, entitled "Notes Added to Proof --- Responses to Past Criticisms", on pages 12 to 16. It was necessary to add the new section because some referees of my papers are reporting to the journal editors about the above five critiques without informing them about my refutations of them. This post is my attempt to overcome this unethical tactic.
Note also that none of the above "critics" have required qualifications. None has a peer-reviewed publication record in geometric algebra, division algebras, topology, or general relativity. Apart from Weatherall, I also had an encounter with another philosopher called
Tim Maudlin
, but he too turned out to be rather dogmatic and closedminded to appreciate my local model.
And it is not only individuals that have exhibited dogmatism and bigotry. Academic institutions like
FQXi
have also exhibited dogmatism and hypocrisy when faced with my local model. Its report on my work found that Gill's and Moldoveanu's claim of "a sign error" is fallacious but failed to declare this publicly because its political interests lie in protecting itself, not science.
There are also some online critiques of my local model, such as
this
,
this
, and
this
. But none of them deserve responding to, because these critics have never bothered to read my papers.
Ignoring the
ad hominem
attacks on me by these classy critics, let me reproduce some excerpts from my refutations of the critiques by Gill, Moldoveanu, and Weatherall, from
this paper
: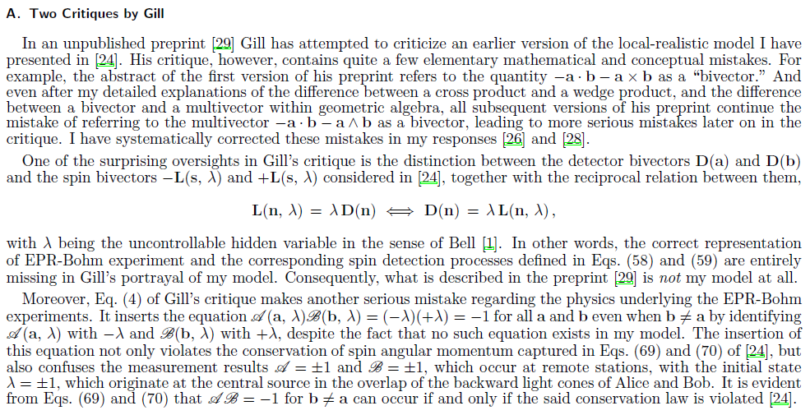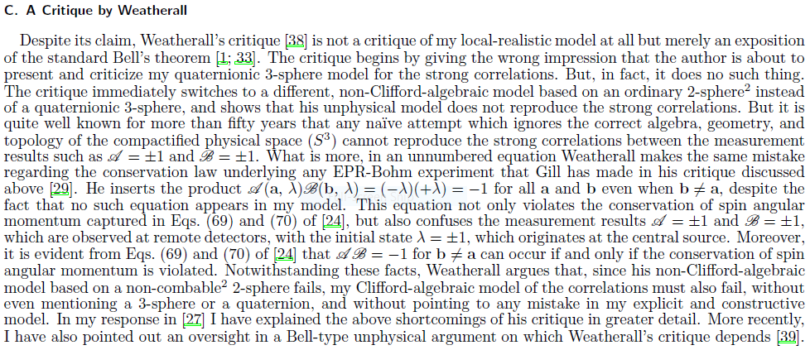 Joy Christian
***